Madurai: Meenakshi Amman Temple Night Ceremony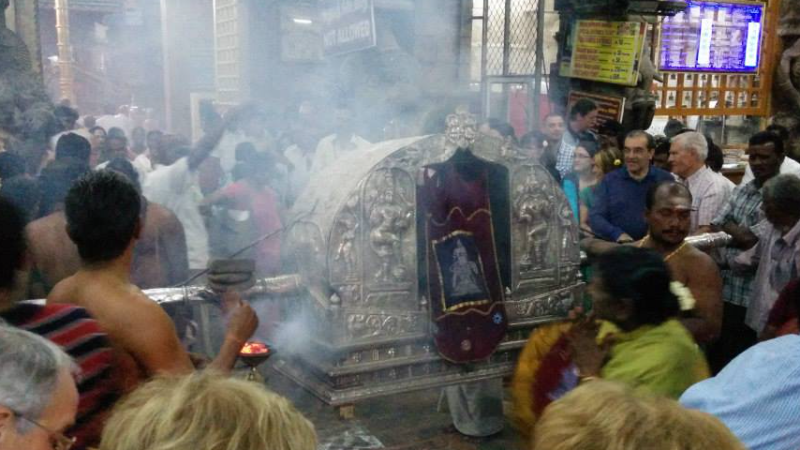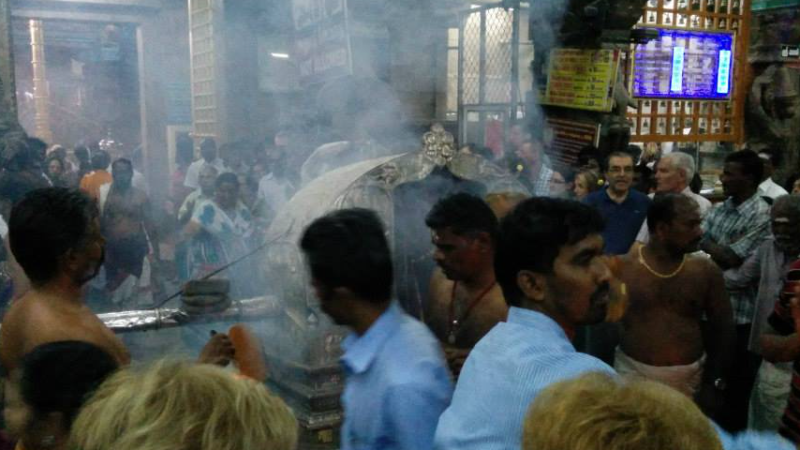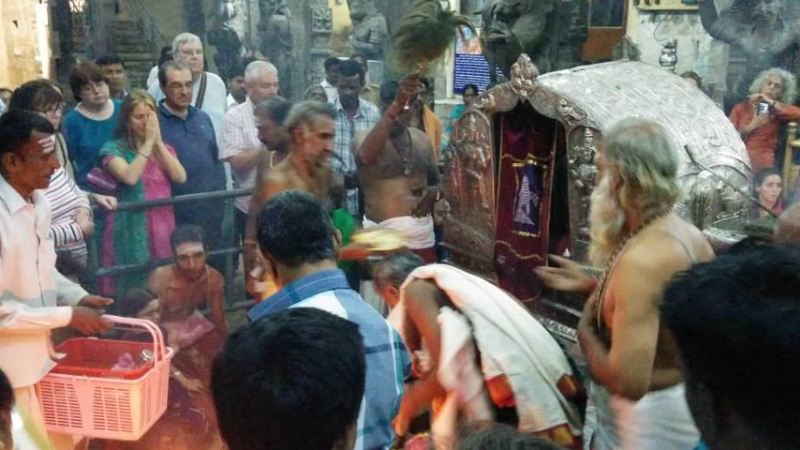 Overview
Madurai has developed encircling Meenakshi Amman temple built in the Dravidian style -one for Lord Shiva and the other for his spouse Meenakshi. It is one of the masterpieces of Dravidian architecture and one of the most important active temples in India. Every traditional Hindu temple such as Meenakshi temple opens at the crack of dawn with a belief, custom of waking God and Goddess up from their divine rest by classical music with an opening prayer of the beautiful day.At night during the final prayer of the day, God Siva, husband of Meenakshi would typically be carried in a palanquin from his shrine and escorted to his residing place, where Goddess Meenakshi waits in her shrine for her husband to come home. This lively divine procession followed by a piece of music along with a gathering of devotees. Once God Siva reaches his home, they rest in their bed chamber and are made of pure silver. This daily process of religious action early in the morning is being traditionally named Thirupalli Ezhuchi - wake up a prayer – Morning Prayer – opening ceremony. During the night it is said to be named, the closing ceremony – bed-chamber ceremony – night ceremony. The temple will be usually open from 0500 hrs to 1230 hrs and 1600 hrs to 2030 hrs.
2 Reasons to Book this tour
Visit to the amazing temple of Goddess Meenakshi Amman
Mezmerizing rituals
Itinerary
20:00
Pickup from City Hotel & transfer to Meenakshi Amman Temple
20:30
Leave your camera's / mobile phones in the safe
20:30
Enter the Meenakshi Amman Temple
21:00
Rituals starts any time after 09:00 PM
22:00
Transfer back to the Hotel & drop
Included / Excluded
Bottled Water
Fuel, Tolls, Taxes and Parking Charges
Professional Tour Guide
Air-Conditioned Vehicle
Pick up and Drop
Accomodation/Hotels
Entrance Fees
Skip The Line
Bus/Tuk Tuk/Metro Fare
Gratuities for Driver and Guide
Food/Snacks
Meeting Point
Pick up and drop from/to your location within city limits.
Things to remember
Mobile Phones, Camera's are not allowed inside the temple
Dress code is smart casual (Please be advised to dress accordingly for places of worship; shorts or sleeveless tops are not recommended)
Cancellations & Refunds
Free cancellation before 24 hours of the tour start date.
No refund within 24 hours of the tour start date.
Reviews